Streamline workflows to fix broken content, and use generative AI to suggest content improvements.
Spot opportunities to improve assortment, availability, and fulfillment method across multiple stores and locations.
Diagnose the impact your content, reviews, and share of voice, has on sales performance.
These features are joined by a host of tools already available on our Digital Shelf Analytics platform. Like to read more?
🎧 How DSO is
Redefining

the CPG Landscape 🎧

Listen as we explore why Digital Shelf Optimization will change the game for how you'll drive profitable growth online.
See how Digital Shelf Optimization will
drive actionability

in your organization
The retail landscape is becoming more complex, making traditional approaches for growth less reliable and more costly. CommerceIQ Digital Shelf Optimization gives brands an edge on their omnichannel strategy by not only providing the right data insights, but applying generative AI, automations, and prioritized recommendations – enabling brands to be agile with market changes and drive higher profitability.
Guru Hariharan, CEO, CommerceIQ
DSO brings three
key

differentiators
Unparalleled Coverage
A complete picture of the category, covering 700+ retailer websites and mobile apps globally. AI-driven catalog creates a source of truth across the omnichannel.
Aggregator and quick commerce visibility across retailers like DoorDash and Instacart, with insights into availability, bundling, outages, and inventory gaps down to store level.
Data Transparency
CommerceIQ DSO offers visibility into data quality, with its client-facing data integrity dashboard and ability to integrate with any data lake.
The solution ensures transparency and demonstrates the clear connection of digital shelf data and impact to market share.
Advanced Actionability
Drive actionability with automations and prioritized recommendations to maximize organic growth. Streamlined workflows including Generative AI improve content, and provide actionable reporting on assortment & availability.
Fully integrated into retail media, ecommerce sales management, content and supply chain through the CommerceIQ REM Platform.
Retail Ecommerce Management by CommerceIQ
An
all-in-one

platform for brands to plan, monitor, and execute their ecommerce businesses

Connected
Break down silos in your organization by giving your sales, marketing, brand, supply chain and agency teams access to a single unified platform.

Data driven
Empower your teams with the information they need at their fingertips. This streamlines your measurement and planning processes, focusing you on the results that matter most.

Automated
We're leading the charge on reducing repetitive manual tasks with predictive analytics and automated actions and insights, allowing you to maximize your return on investment.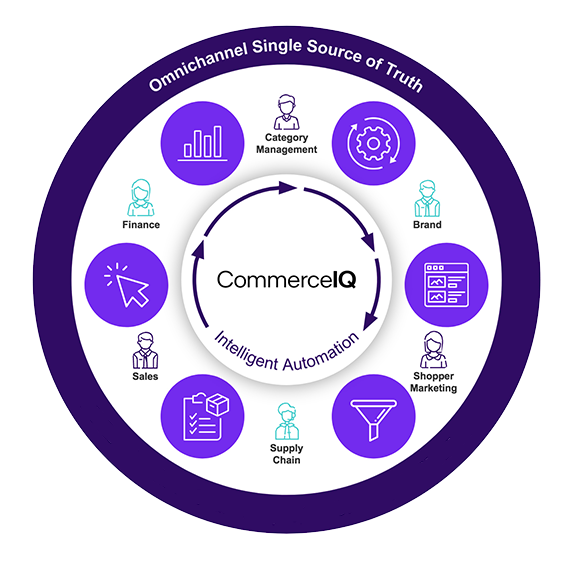 One smart platform

for your retail ecommerce business.

Finally.
CommerceIQ is the pioneer in helping brands win through retail ecommerce channels such as Amazon, Sam's Club, Kroger, Walmart.com, and Instacart, where 85% of all ecommerce happens. CommerceIQ's unified platform applies machine learning and automation across marketing, supply chain, and sales operations to help brands unlock the secret to gaining market share profitably.
Ecommerce Sales Operations
Track and improve your performance across sales, operations and media metrics, including SKU-level profitability and market share.
Profit Recovery Automation
Machine driven approach to identify shortage drivers and dispute 100% of shortage dollars which nets a 70% success rate.
Retail Media Management
Full funnel single source of truth for retail media spend, performance and optimization across your omnichannel team.
Digital Shelf Optimization
Enables brands to ensure the right assortment, availability and fulfillment methods down to a brand, category, and regional market level.
Trusted By World-Class Companies